INTERACT CLUB of
NORTH PLAINFIELD HIGH SCHOOL
Janice Allen, Rotary Club president, presents a bell and gavel to the charter North Plainfield High School Interact Club officers while Rotarian Steve Davies, club liaison to Interact, looks on.
The Interact Club at North Plainfield High School was established in 1998 by the Rotary Club of Plainfield-North Plainfield. During President Janice Allen's term, in cooperation with the Board of Education, our Club determined that there was a need for a youth service club at the high school. The school formerly offered a Key Club (through Kiwanis International,) but after the local Kiwanis Club folded there was no sponsoring club available. Rotary stepped in and the Interact Club was formed.
Interact is a service club, like Rotary, and its membership is open to students at North Plainfield High School. In its formative years, Amy Six was the club's adviser. Amy is a choral music teacher at the high school, and helped get the club organized and established as a destination for students interested in service.
The club's current advisors are Kay Sayani and Joe Lombardo. They took over leadership of Interact in 2020 from Alexandra Pereira, who led the club since 2008-09
Beach Sweep - an annual program every March, District 7510 coordinates the project and provides lunch for all participating Interact Clubs from our district.

Rutgers Concessions - in this long-time annual project, the Interact Club members worked with Rotarians to staff concession stands at Rutgers basketball games. Working together, we raised funds for the Rotary Club Scholarship Program and other service projects. The project was discontinued when Rutgers University allowed alcoholic beverages and required all volunteers to be at least 18 years of age.

Scholarships - Because of their hard work in service to others, Interact Club graduating seniors are exclusive beneficiaries of the Rotary Club's scholarship awards at North Plainfield High.

Blood Drives - Held semi-annually, these great projects help save lives for hundreds of people. The Interact Club has been recognized by the American Red Cross for their work to secure blood donations.

Pancake Breakfast - Interactors help the Rotary Club with its annual Pancake Breakfast, a project that aims to recognize senior citizens by providing a free, delicious breakfast and socialization.
Some of the many club projects are shown below with accompanying photos. Enjoy!

Beach Sweep
The Interact Club works with other Interact Clubs in the area plus many others to help Clean Ocean Action's Beach Sweep event at Sandy Hook National Park in New Jersey. Members scour the beaches and dunes for litter and flotsam of all kinds and clean it up! After a hard morning's work, they enjoy a hot dog lunch, prepared and served by District 7510 Rotarians. Great fun at a great event.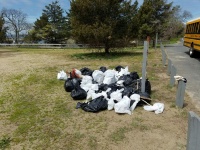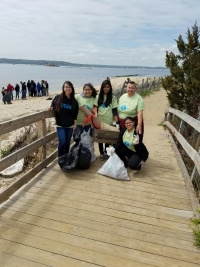 Rutgers University Concessions
Interact Club members have worked with the Rotary Club for years at the Rutgers Athletic Center, staffing concession stands to raise money for scholarships and other charitable works. They cook hot dogs, pretzels and popcorn, serve sodas and nachos and other goodies for the hungry fans. Their work has increased from eight games a year to over a dozen, increasing the scholarship awards at North Plainfield High School from $3,000 to $5,000 a year. These awards are now given exclusively to deserving Interact Club seniors who apply.
Valentine's Cupcake Project
Another seasonal project was a Valentine's Cupcake Project. The Club sold the cupcakes to students and faculty in February. Each cupcake was baked and decorated by the Interact members, placed in a special gift box, and delivered with a personal message written by the sender on an origami heart-shaped card. The sales netted
$600.00 for the club's Pennies for Patients Project. The money was donated to the Lukemia and Lymphoma Society for young patients suffering from these diseases.
NPHS Students Honored as Students of the Month
Every year, the Rotary Club honors and recognizes the achievements of students from North Plainfield High School who are members of the Interact Club.
The Club members are pleased to present Rotary Students of the Month Awards to the Interactors who best represent the Rotary ideal of "Service Above Self" each month.
Service in Interact takes several forms, from being an active and frequent participant in the club's activities, to being a leader within the club, to being a support for the Interact Club adviser.
An exceptional luncheon, courtesy of the Rotary Club, is held in the students' honor at Giovanna's Restaurant in Plainfield. The students introduce themselves and share their accomplishments, commitments and dedication to Interact, the high school, and the community.
The honorees are presented with framed certificates and are congratulated and commended on their exemplary dedication. The North Plainfield Superintendent of Schools, Interact advisor Alexandra Pereira, and other members of the Rotary Club support and congratulate the award recipients for their accomplishments.
The Rotary Club is very proud of all recipients of the Student of the Month Awards that have been and will be honored and are sure that their devotion to their community will continue to grow.
Easter Egg Hunt
Another event that was a big hit was the club's Easter Egg Hunt. Interact sponsored the Egg Hunt at one of the elementary schools, Stony Brook. The Interact Club stuffed more than 500 eggs with candy and then scattered them for the children who attended the event.