Food pantry shelves are often bare...what can you spare?
CLUB SUPPORTS STAR FISH FOOD PANTRY
For nearly forty years, men and women from Plainfield and the surrounding area have collected and distributed food to the needy in Plainfield through an organization known as Star Fish. Founded as a cooperative effort of the Jewish and Christian communities (hence the "Star" and the "Fish"), these volunteers initially worked out of members' homes. Food was collected, sorted and stored in basements for later delivery to those in need.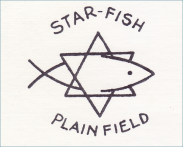 Using social service agencies as clearinghouses, Star Fish met all requests for food. Members packed the bags of groceries, then delivered them to the needy. Times have changed, but the need has not diminished. Now, food is collected at the Covenant United Methodist Church on East Front Street in Plainfield. Star Fish has a storage room in the basement where volunteers still gather to sort, bag, and deliver food three days a week.
Our Club collects food for Star Fish and we provide Thanksgiving and Christmas dinners for twelve families through Star Fish. Members bring canned and dry goods to our weekly meetings, and one of our members delivers the food to the Pantry.
We also provide the fixings for twelve family dinners each Thanksgiving, Christmas, and Easter as part of Star Fish's annual projects. Star Fish volunteers prepare these family dinner packages for 150 families, large and small, at each of these primary holidays. Much of this food (including turkeys and hams) is purchased by Star Fish specifically for each project. The photo at the top of this page shows the partially empty shelves that occur all too frequently when supplies get low. The photo at right shows volunteers beginning to prepare the holiday meal bags.
We maintain two vegetable garden plots at the Giving Garden in Warren Township, growing vegetables in four 160 square foot plots and helping maintain other plots in this community garden. We collect the farm produce and bring it to the Star Fish Food Pantry every week during the growing season. You can see the garden and some of our crops in the Giving Garden Project photo widget in the left menu.
We can help! You can help! A small bag of groceries for a single person, a couple of bags for a family are all it takes to give them that boost they need to get from paycheck to paycheck. The lists of food below are typical of the assistance Star Fish provides to the needy. As you can see, these are simple but nutritious foods - nothing extravagant.
You can help by providing any quantity of any or all of the items for either a single person or for an average family. For Club members, just bring them to any weekly Club meeting. For non-members, drop them off at Giovanna's Restaurant or email us and we'll make arrangements to get them from you and deliver them to Star Fish.
Average Family (as shown in the photo, it's not much!)
1 Package of meat
1/2 lb of margarine
1 Loaf of bread (or a few rolls or bagels)
1 lb of Pasta
1 Pasta Sauce (can or jar)
2 Cans Soup
1 Macaroni and Cheese
5 tea bags
1 Jar Peanut Butter
1 Jar Jelly
1 Can of Fruit or Jar of Applesauce
2 Cans Vegetables (usually green beans and corn)
1 Can of Tuna
1 Can of Pork and Beans
1/2 Dozen Eggs
1 box of cereal or 4 Instant Breakfast Cereal envelopes

In addition to these food items, feel free to add other staples, such as paper towels, toilet paper, toothpaste, soap, dish detergent, or any other item that might help these families get to their next paycheck. Let's each do our part and make this on-going service project a success!