SERVICE ABOVE SELF AWARDS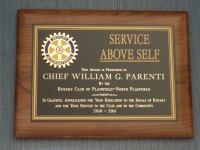 The Rotary Club of Plainfield-North Plainfield began presenting an annual award in 2009 as a way to recognize community leaders who best exemplify Rotary International's motto of "Service Above Self."
The person selected for the award has contributed in a substantial way to the betterment of our own club and/or the community in which they work or reside.
The awards are presented at the club's annual Wine Tasting Dinner, a fundraiser for the club's scholarship program and other community and international service projects.
2008-2009 - Janice Allen - North Plainfield Mayor & Council Member
Recognized for her years of service to Club (president, committee chair for scholarships, Read Across America, and others) and her years of service to North Plainfield as council member and then as mayor.
[2009-2010 - November 2010 dinner changed to March 2011]
2009-2011 - Bill Parenti - North Plainfield Police Chief
Recognized for his years of service to Club (president, committee chair for Wine Dinner, website administrator, website financier) and his years of service to North Plainfield as chief of police.
2011-2012 - Michael Townley - South Plainfield resident
Recognized for his years of service to Club (President, secretary, treasurer, committee chair (Track and Field Meet, scholarships, newletter, website, and others), chairman of Rotary PNP, Inc., District 7510 secretary and editor and website administrator; service to Plainfield through Star Fish Food Pantry; volunteer work and foster parent for United Family and Children's Society in Plainfield.
2012-2013 - Donna Albanese - Plainfield community & business
Recognized for her service to businesses in the Netherwood section of Plainfield, Plainwood Square Merchants Association, liaison to City of Plainfield for South Avenue businesses, restoration of South Avenue's Plainwood Square Park; bicycle collection, restoration, and donation program for Plainfield youth; volunteer service for organ donor Sharing Network of New Jersey.
2013-2014 - Marilyn Birnbaum - North Plainfield Superintendent of Schools
Recognized for her 43 years of service to North Plainfield students and families as teacher and as superintendent; service to Club as president and as formative advisor for NPHS Interact Club and later club liaison to Interact.
2014-2015 - Adrian Mapp - Mayor - City of Plainfield
Mayor Adrian O. Mapp was selected by the Club for recognition of his efforts to improve government transparency and to encourage community involvement in local government. Mayor Mapp first served his community as a councilman, then served at the County level as freeholder, returning to serve as a councilman again before being elected to the mayor's office. He has upgraded the professionalism within city government and emphasizes accountability. He is also a proponent of local food banks, hosting an annual event to collect food for these food banks.
2015-2016 - Michael Giordano - Mayor - Borough of North Plainfield
Mayor Michael Giordano was selected by the Club for his tireless efforts for and support of advancing the Borough of North Plainfield, both economically and socially. Rotarian and former North Plainfield Mayor Janice Allen introduced the guest of honor and highlighted a number of the Mayor's accomplishments, particularly highlighting economic development that has surged under his leadership. The development of the Costco complex, the recent addition of the Texas Roadhouse Restaurant, the coming addition of the La Z Boy Furniture store, were but a few examples of the progress made in the Borough.
8. 2016-2017 - Shirley Weaver Thompson - Borough of South Plainfield
Shirley Thompson was selected by the Club for her years-long Shirley Thompson's Christmas Project. Working with her team of volunteers, Shirley gathers Christmas gifts for those in need and delivers them with wrapping paper and supplies to families so they can wrap and give the presents to their children. She and her helpers also prepare Christmas dinners and deliver them throughout South Plainfield so the elderly and others will have a wonderful dinner for their holiday celebration. This project was in its sixteenth year when the award was presented.
9. 2017-2018 - Freeholder Linda Carter - City of Plainfield
Union County Freeholder Linda Carter was honored by our Club for her years of service to the City of Plainfield as a councilwoman and to the County of Union where she then-served as a freeholder. Linda always tirelessly supports Plainfield residents through her stewardship and her love of the City. Subsequent to receiving our award, she was selected to succeed the late Jerry Green as a member of the New Jersey State Assembly.
10. 2018-2019 - Victoria Griswold - City of Plainfield
Lifelong Plainfield resident Vicky Griswold received the Service Above Self Award for her many years of dedicated service to our Club and to the City of Plainfield. Vicky was a long-time member of the Distribution Committee of the Plainfield Foundation, helping evaluate grant applications from non-profits in Plainfield, North Plainfield and the surrounding area. Vicky is a concert pianist and was the owner of the Plainfield Music Store until its closing.
11. 2019-2020 - Thomas Cassio - Borough of South Plainfield
South Plainfield resident and business owner Tom Cassio was selected to receive the Service Above Self Award for his years of service on the South Plainfield Board of Education, including as vice president and chair of numerous committees. He is also a commissioner of the South Plainfield Junior Baseball Club where he also served in officer positions, as chair of committees, and as a dedicated coach. Tom is an owner of Twin City Pharmacy in South Plainfield, where he is known for his compassionate care of the pharmacy's many customers. (Note: due to Covid-19 restrictions, Tom's award presentation has yet to be scheduled.)