Dictionary Project
Each year since 2004, the Rotary Club of the Plainfields has given away free dictionaries to every third grade student in the Plainfield school district and in the North Plainfield school district. The local Elks Club in South Plainfield donates the dictionaries in that community. Click here for recent project photos.
This exciting project gives the gift of learning to students who eagerly await the visit by Rotarians and friends each Fall. Over 1200 dictionaries are handed to the third graders in a one-on-one presentation. These books are a gift from the Club to the individual student; they belong to the student, who is encouraged to use it and care for it as a precious gift.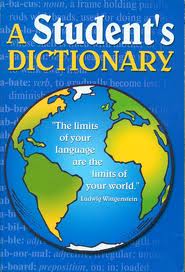 We present most students with an English language version (shown at right - A Student's Dictionary), but also have a Spanish-English version for those who need it. Worth noting is the fact that relatively few students need this second book; by the third grade, most have a good handle on the English language.
The books are purchased through an organization called The Dictionary Project. We pay under $3 for each book, which includes shipping. A 501(c)(3) tax exempt non-profit, The Dictionary Project's sole purpose is to put a dictionary into the hands of every elementary school student.